Frequently Asked Questions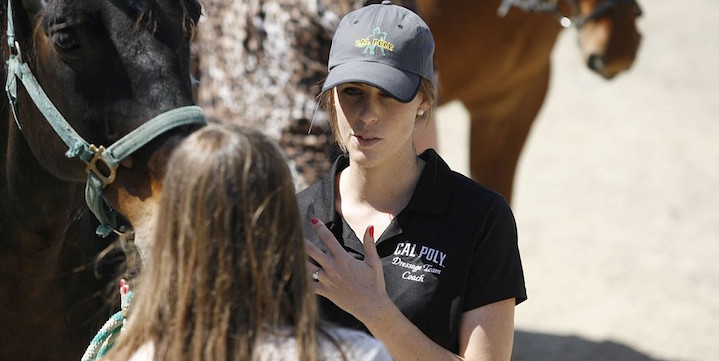 Where do I find forms?
The following forms can be found in the Animal Science Office located in building 10, room 141.
Conflict of Courses
Excess Unit Request
Refund Request
Poultry Minor Application
Petition to substitute course
Choice of Catalogue Form
Petition to Repeat Courses
The following forms can be found in the Records Office in building 1, room 222.
Official Transcript Request
Verification Request-enrollement, GPA
Expected Graduation
Permit Request (crash a closed course)- also available in schedule
Change of Degree Completion Date
Request for Graduation Evaluation
Change of Major Form
The following form is available from your advisor: Career Elective Area Form
Who do I talk to for help picking classes next quarter?
Students should talk with their advisers each quarter to determine what courses they need to complete. To find out a student's adviser, call the Animal Science Office at (805) 756-2419.
Who should I talk to for information about enterprise projects and how to sign up?
For information about enterprise projects, students should speak with the project adviser. A current list of enterprises is posted in the Animal Science Office. Students are encouraged to ask professors about opportunities at each unit. Permission numbers to enroll in each class will be provided by the instructor in the first or second week of classes.
How do I switch my major to Animal Science?
Transferring into the Animal Science (ASCI) major is not an automatic process. Students desiring to change into the Animal Science major must meet the minimum qualifications and follow the application procedures outlined below.
Minimum qualifications for admittance into the Animal Science major:
1. A Cal Poly cumulative GPA of 3.0 or higher
2. Completion with a B grade or better in all of the following:
ASCI 112 (Principles of Animal Science)
CHEM 111 (Survey of Chemistry) OR CHEM 127 (General Chemistry I)
BIO 111 (General Biology) OR BIO 161 (Intro to Cell & Molecular Biology)
Application procedures: 
1. Log onto your Cal Poly Portal and select the "Change Your Major" item in the Academics tab. Follow the instructions there.
2. If the instructions on "Change Your Major" indicate you are eligible to apply for a change into ASCI, then you should contact the department office to reserve a spot in a group meeting with the department head.
3. After the group meeting, the department head will review all applicants for change-of-major to make a determination of eligibility. There are a limited number of seats each term, so approval of change-of-major is not guaranteed.
4. If the department head agrees to proceed, then s/he will initiate an Individual Change of Major Agreement (ICMA). This is an online process that requires a few levels of approval before you are accepted into the new major. This agreement will include, among other criteria, taking the aforementioned prerequisites.
For more information, contact the Animal Science Office at animalscience@calpoly.edu or (805) 756-2419.
Related Content